New ovoid tanks at Château de la Ragotière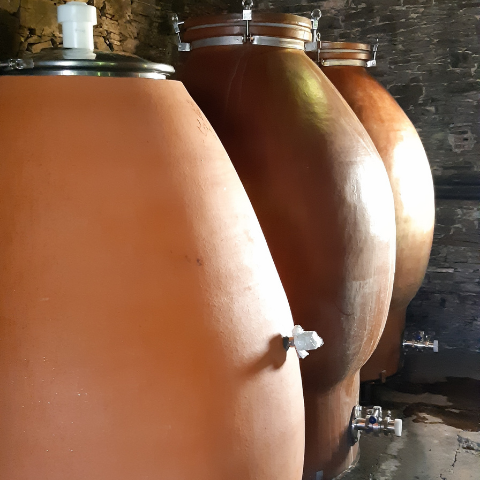 In 2019, two sandstone and egg-shaped vats arrived at Château de la Ragotière. They are used in the breeding of our Muscadet La Petite Etoile. Due to their ovoid shape, the lees will be in suspension in the wine throughout the aging. This gives a nice complexity and roundness to the wine.
The result ? An atypical Muscadet, with notes of candied fruit and spices, such as white pepper and thyme.
In October 2021, a new terracotta jar joined our cellar! Aging in this egg-shaped tank also allows natural mixing of the lees. A new Chardonnay will emerge in a few months …

Les Frères Couillaud
La Grande Ragotière
44330 La Regrippière - France
Tél : +332 40 33 60 56
Fax : +332 40 33 61 89
info@freres-couillaud.com
Monday to Friday
from 09:00 am to noon and from 2:00 pm to 6:00 pm
Saturday from 10am to 1pm
Closed on Saturday afternoon and Sunday